Is Motorcycle
Insurance Required in the U.S?
Motorcycle Insurance is a type of Vehicle Insurance that protects the insured against financial losses in case an unexpected accident occurs. This insurance would cover various types of motorcycles, including sportbikes, bike cruisers, mopeds, and scooters.
Generally, Motorcycle Insurance is the same as Car Insurance, which is often required in most States. In some states, you are required to carry a minimum liability coverage limit. However, in some states, they will oblige you to provide proof of income that you can pay if you cause bodily injury and property damages to others.
Either way, you have to protect yourself from financial imbalances, in case an accident happens. Find an agent and get free insurance rates here which commonly vary by state.
Motorcycle Insurance Coverage
Collision Coverage provides the cost of repair to the insured motorcycle, in case of losses due to colliding with other vehicles. Besides, collision coverage could also cover damages due to the overturning of the car and colliding with other objects. Damages due to theft, vandalism, hurricane, and tornadoes are not applicable for coverage. Additionally, collision coverage can only offer to the insured who purchase liability and comprehensive coverage.
Generally, Motorcycle Insurance has Comprehensive Coverage, which could cover the insured against damages that are due to accidents other-than-collision. This coverage could help pay for the repair of the insured motorcycle —if the damages are due to animal losses. Comprehensive Coverage would cover damages resulting from hail, windstorms, falling objects, and motorcycle losses due to the collapse of the garage. Lastly, Comprehensive Coverage would cover costs due to theft or break-in and among other related causes. However, intentional damages such as slashing and torching your motorcycle are a general exclusion of coverage.
How Does Comprehensive Coverage of Motorcycle Insurance Works?
A policyholder owning a motocross vehicle has a $10,000 comprehensive coverage limit, and a $1,000 deductible rate. At one afternoon, an earthquake hit their location, which caused a vast amount of casualties. Aside from his home, the insured's motorcycle also incur damages that lead the insured to file a claim to his Motorcycle Insurance provider. In total, the cost of the damages to the vehicle of the insured is approximately $6,000. The insurance provider will pay the insured with an exact amount of $5000 (up to the coverage limits minus its deductible). If the rider does not have comprehensive coverage, he would be responsible for paying the total amount of $6,000 for the repair of his motorcycle.
Almost all states require every driver to carry a minimum liability limit of insurance. Motorcycle Insurance offers two forms of liability: it provides coverage for bodily injury and property damages liability of the insured. It could cover the medical expenses of the third party person —should the insured be responsible for its bodily injury. For instance, suppose that the insured causes an accident at a highway, on which some pedestrians and motorists procure bodily injuries. The liability coverage would cover the medical expenses of the injured person, up to the policy's specific limit only. In California, the minimum liability limit is $15,000 per person and $30,000 to all persons injured in one accident. However, it is much better to procure higher limits of liability insurance. This is to make sure that we will never be underinsured if an accident occurs.
Medical Expenses Coverage
Medical expenses offer coverage for bodily injuries of the insured. Besides the policyholder, it could also pay for the medical bills of its passengers —regardless of who's at fault. Often, many people's misconceptions are that their health insurance would cover them in times of vehicular accidents. Neither they know that some health insurance providers do not provide coverage if the injuries are due to motorcycle accidents. Therefore, to prevent lapses with your insurances, you should consider adding this coverage to your Motorcycle Insurance policy.
Underinsured and Uninsured Motorist Coverage
Underinsured and Uninsured Motorist Coverage

Uninsured Motorist Coverage could help pay for the medical expenses and cost of repair for the insured's damaged property. This coverage will take place if the driver at-fault in the accident does not have insurance to cover the injured policyholder. A typical example of this is a hit and run accident. Typically, in the United States, in accidents, the party at fault pays for all the medical expenses and property damages of the aggravated individual. However, in some instances, some at-fault drivers do not carry liability insurance. Therefore, you will have to pay for your own losses. So to alleviate the possible financial loss, consider having this coverage on your Motorcycle Insurance.

Underinsured Motorist Coverage

Underinsured Motorist Coverage is a type of protection that covers the insured against losses in case that an underinsured driver hits him. Underinsured drivers are those who have insurance but are not enough to cover all the liability expenses. You may also consider as an underinsured driver if your liability limit is less than the required limits on your state.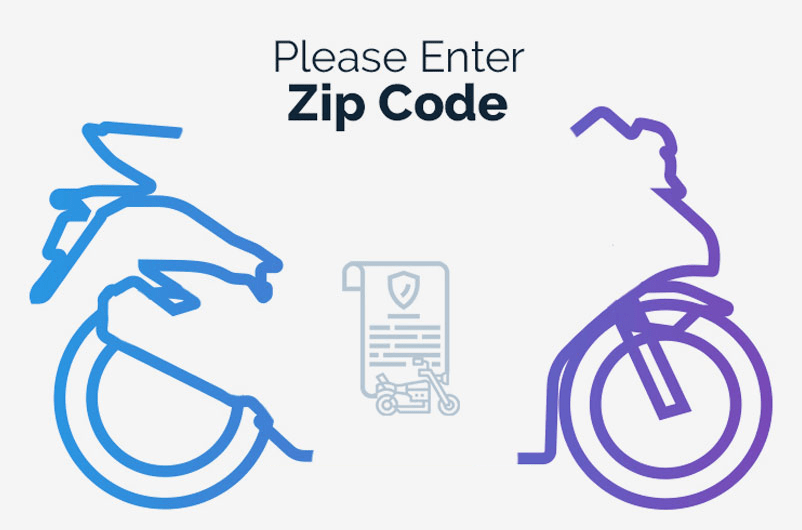 In the United States, 3% of registered vehicles are motorcycles, on which these riders are also accounted for most crashes. As of the year 2020, motorcycle crashes doubled the recorded accidents from the prior years. The bodily injury rate of riders due to accidents is remarkably slightly higher than that of closed four-wheeled vehicle motorists.
Furthermore, most of these motorists who incur accidents, disobey the law by not carrying liability insurance. They will need to find a solution dealing with managing their obligation to the law, instead of thinking about their injuries. Also, they need to think about their
responsibilities to those affected by the losses they caused.
Here at InsureHopper, we could help you share the risk. Motorcycle Insurance is a way better protection against losses that could arise from vehicular accidents. Our affiliated agents could help you find Motorcycle Insurance with comprehensive coverage from A-rated
insurance companies and compare their rates.
Get a Free Motorcycle Insurance Quote here.